14/05/2017
Pre-planning session success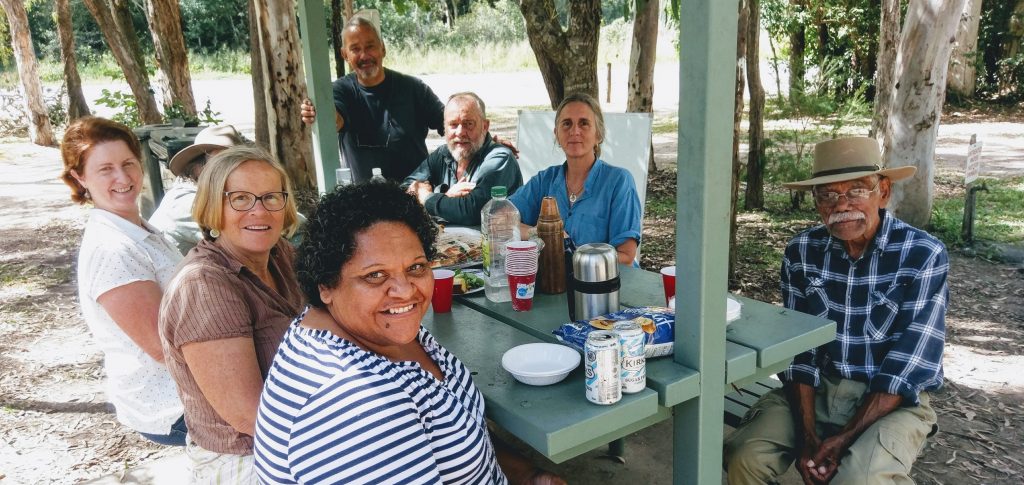 An enthusiastic group gathered at the Rifle Creek Campground to start the planning process for Mt Molloy's Edible Heritage Trail.
This was the first chance that Dr Wendy Seabrook of Cooktown's Hill Top Farm had a chance to walk the trail and have a think about how it could be nudged toward a more interesting and productive ecosystem.
Wendy has been studying a low-maintenance/high-yield form of cultivation that produces food forests. When they are fully established, these forests are largely self-maintaining…recycling nutrients and building new soil while delivering a range of benefits such as food, amenity, and habitat.
Wendy notes: "When we're ready to see the natural systems in their true form, and learn to work with those forces instead of at odds with them, that is when we can really experience the abundance of living wealth that our landscapes are ready to offer."
For a long-term view of the landscape we were especially happy to be joined on the day by Muluridji elder Mervyn Riley. Over 90yrs old, Mervyn treated all of us to his glowing good humour and twinkling affection for this land he grew up on. Mervyn was supported by Mareeba-based Muluridji powerhouse Ann-Marie Keating and her husband Duncan McInnis. Their confident teenagers immediately set out to fish in the creek while the rest of us ambled down the track.
Rupert Russell and Lloyd Neilson had previously marked special trees along the trail. It was interesting to note how much potential is already there and would like push forth if it is kept safe from fire and some of the rank grasses cleared back.
Peter Brown identified a range of plants and gave some of the history of the tracks including the alignment of the original Cobb & Co road. Julie Nolan and TJ McCaldin observed the natural amenity of the area and made suggestions about how the trail would contribute to an appreciation of our region's heritage and history.