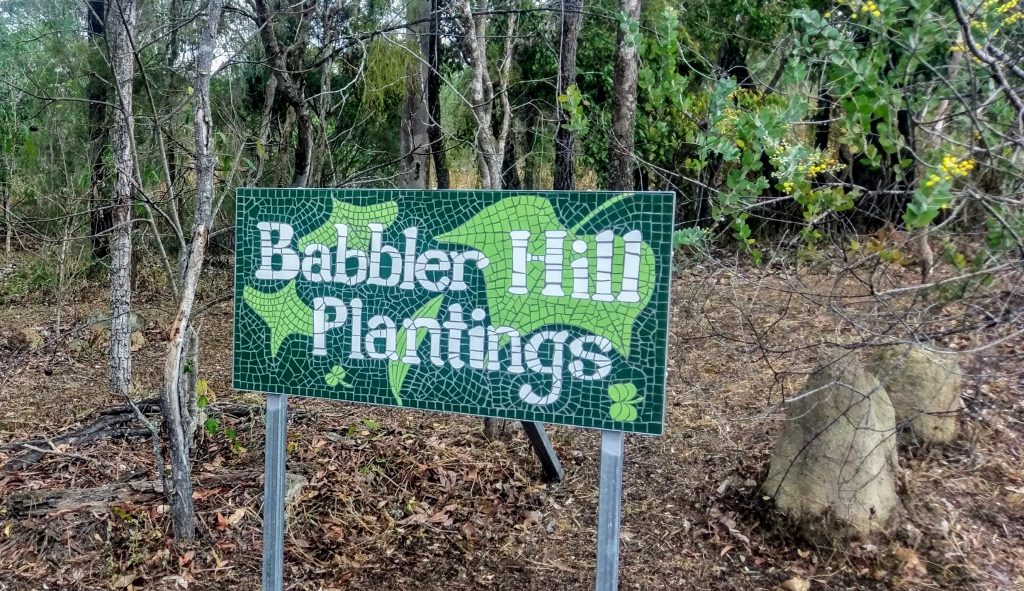 Nestled in between Mt Molloy State School, the Council Depot, and the two ovals at the southeast of the village, there is a pair of Council Purposes reserve areas that have been transformed to something very special.
Babbler Hill
The 4ha block just behind the school straddles the old Mt Molloy railway alignment as it swept into town and took aim for its terminus at the Johnston Sawmill. The hill used to be burned regularly as a practice grounds for the fire brigade, but starting about 2003 a retiring Queensland Parks officer, Rupert Russell, asked that the fires be stopped so that he could trial an alternative management method.
Rupert began planting young seedlings and setting up tracks that could be kept clear of grass/fuel build-up. He chose trees most likely to have sufficient hardiness to adapt to the tough soils and the low rainfall climate of Mount Molloy. As the years went by, birds and other wildlife started to return. Among the grateful creatures were grey-crowned babblers, a delightful species that lives in noisy family groups and is iconic to our savannah scrubs. Thus, the area was christened "Babbler Hill".
14 years later, Babbler Hill is now home to over 300 saplings, representing 66 species in 30 genera of Australian native plants. The area is appreciated by wildlife, school students, locals, and visitors.
Tall Gums
Just to the south of Babbler Hill lies another 4ha patch that comprises the old stock route, Council road easement, and the utility easement. This area is dominated by the large eucalypts that provide the uppermost canopy for a diverse range of wet-dry tropical species. There are walking tracks, rest areas, and beautiful vignettes that are revealed and obscured as the seasons meander through their cycles.
Laneways throughout Tall Gums are slashed and graded to provide year-round amenity as well as to provide access tracks for fire and emergency vehicles, keeping the village's eastern approaches safe.