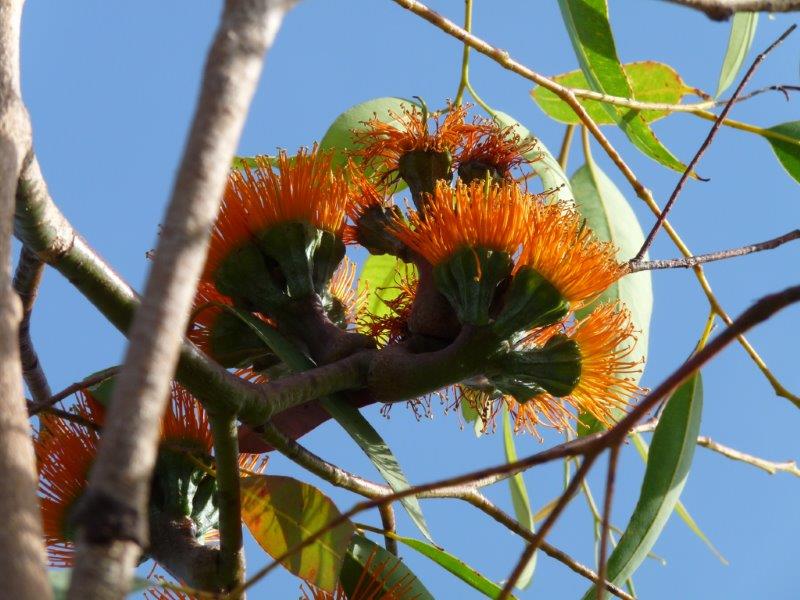 Plantings on the southern approach to Molloy…
Line of sight
The southern approach to Mount Molloy is the site of a re-beautification project that started in late 2017. A group of interested locals, including Lorne Cubit, Gordon Rasmussen, and Rupert Russell were keen to improve on the amenity of the existing "avenue of trees".
The area extends from a creek at the southern edge of Vains Park about 400m toward Baker's Rd. The country is generally quite rough and of poor soil quality, with about 25% of the area subject to seasonal flooding, and about 50% devoid of any regular water.
Rupert and Juliana Russell undertook a survey of the existing plantings in Nov 2017 and gave an assessment of the potential. In the map below, green markers show trees of reasonably good health, while the yellow and red are either dubious or dead. Orange stars show the potential for new plantings (in the existing spacing). There were 26 new planting spaces identified.
(grab the KML file and view in your own mapping program, eg Google Earth)
With encouragement from Mayor Tom Gilmore, a working group was formed to come up with a shortlist of species suitable for consideration in this rather harsh and difficult setting.
Putting it to the People
The list of candidate trees was drawn up as a ballot and distributed in paper and online through a survey form. From late March to mid April 2018 locals were invited to make their preferences known. Over 350 preferences were submitted, including ballots collected through the school, the Top Shop, and (most important!) the Pub.
As a result, the following 10 candidates made the cut and have progressed toward the next stage.
The Plan
The stages of the project, in summary, are:
Inspiration and vision
Survey and consultation
Preferences and priorities
Preparation and planting
Tending and protecting
Enjoying and reflecting