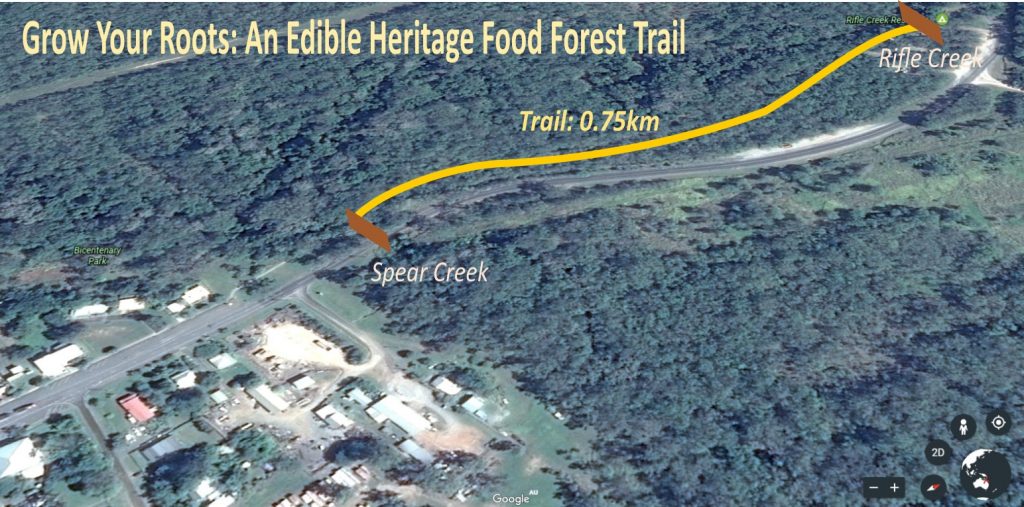 About the project
We are creating an inviting, educational, and nutritious pedestrian walk that connects the campground at Rifle Creek with the main village.
There is a public park (Centenary Park) just behind the Main St which forms the other end of the proposed trail. We feel this trail will give visitors a welcome introduction to both the natural and cultural heritage of our village. The Trail will feature native plants as well as plants that came along with early pioneers and more recent settlers. Each layer of plants corresponds to a specific cultural relationship with the country.
It's a big vision, and we expect it will be an ongoing effort for years to come.
The starting point is this "Master Plan", which comes from a community-driven planning process. Informed by the Plan, we will continue to plant, tend, grow, and promote the trail over years to come.
There is an existing, unimproved pedestrian strip which is a favourite with older visitors who walk the 1Km distance from the campground to town. This trail is also frequented by locals who enjoy the scrubby bush setting right at the doorstep of their village.
The trail supports other nearby place-based tourism efforts, helping to reveal the stories of sustenance and custom that grow here.
The project also provides a real-world laboratory for students to observe ecological systems design and function as well as extending their understanding of traditional bush foods and medicines and their cultural context.
With the trail established, a much more pleasant walking track will connect the village with the campground, encouraging more regular interactions.
The addition of this Edible Heritage Trail to Mount Molloy contributes, even modestly, to local self-sufficiency. Of far greater significance are the sparks of enthusiasm and imagination that the project ignites in both the travellers and the locals who come in contact with it.
A plan in planning
Here's our current process/plan document. It will be updated as we go along:
Learning from Nature
Dr Wendy Seabrook is our lead consultant and food forest co-explorer. See more:
Supported by
The idea of a community garden and habitat walk was suggested by Juliana Russell after conversation with Melissa Bloore.
The Muluridji People, represented by Mervyn Riley and facilitated by Ann-Marie Keating, have shown a particular interest in making this Trail a place of learning and healing.
Gerry Turpin, head of the Indigenous Ethobotany section at the Tropical Herbarium (JCU) assisted with interpretation and identification of plants and their traditional uses.
Lloyd Neilsen provided expert insight to the wildlife in the area along with Rupert Russell who carefully identified the outstanding trees along the track.
A very big thanks to Mareeba Shire Council for their continued assistance and support.
Enabling funding was granted by the Foundation for Rural & Regional Renewal.