16/08/2018
Southern Plantings proceeding at Molloy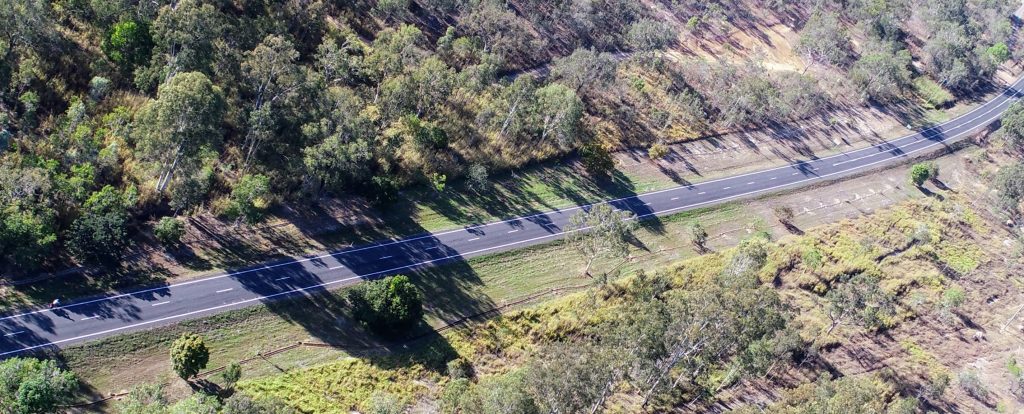 The southern planting crew is staying on schedule with the recent completion of holes and trenching in preparation for planting.
The idea was to put a 50cm auger down to about 90cm. The soil will be sufficiently loosened so that the new trees will have a bit easier time of it trying to get established. Ace local contractor Brad Bell made short work of the task with his portable rig running up one side of the road and down the other.
Legendary tree-planter Rupert Russell danced around with his mighty breaker-bar, ensuring that the walls of each hole were sufficiently scored and fractured to tempt young roots to venture out. If this is not done, some roots will circle around the sides of the boring as if they were in a pot.
The quality of the soil was variable. The further south (toward Mareeba) the more likely it was to be rocky, dusty, white clays. To the north there were some quite decent-looking sandy/loamy soils. This is almost certainly related to the creek that edges in from the east and eventually finds its way through the culvert that runs under the highway.
Given that the poor soils were *really*  poor, JAMARR made the effort to seek some professional help.
This came in the form of the very wise Boris at T.E.R.M. Civil Construction and Quarry Supplies. He was more than happy to recommend some of their special mix topsoil and Quinkan.
2tonne of special mix was hauled back and shandied in with the "native" soils. Again, this should give the young trees a little bit better chance to get established. Great thanks to Boris and the good folks at T.E.R.M. (sam_musumeci@qld.chariot.net.au)!
We were also greatly assisted by a cash donation from Council to pay for the irrigation gear. Thanks to Councillors Nipper Brown, Lenore Wyatt, and of course Mayor Tom Gilmore who suggested that Council would be happy to support the community to undertake this project.
The trees are expected to go in by the end of September.
Any queries please drop a note to: secretary@jamarr.org.au