04/05/2019
Labyrinth Day 2019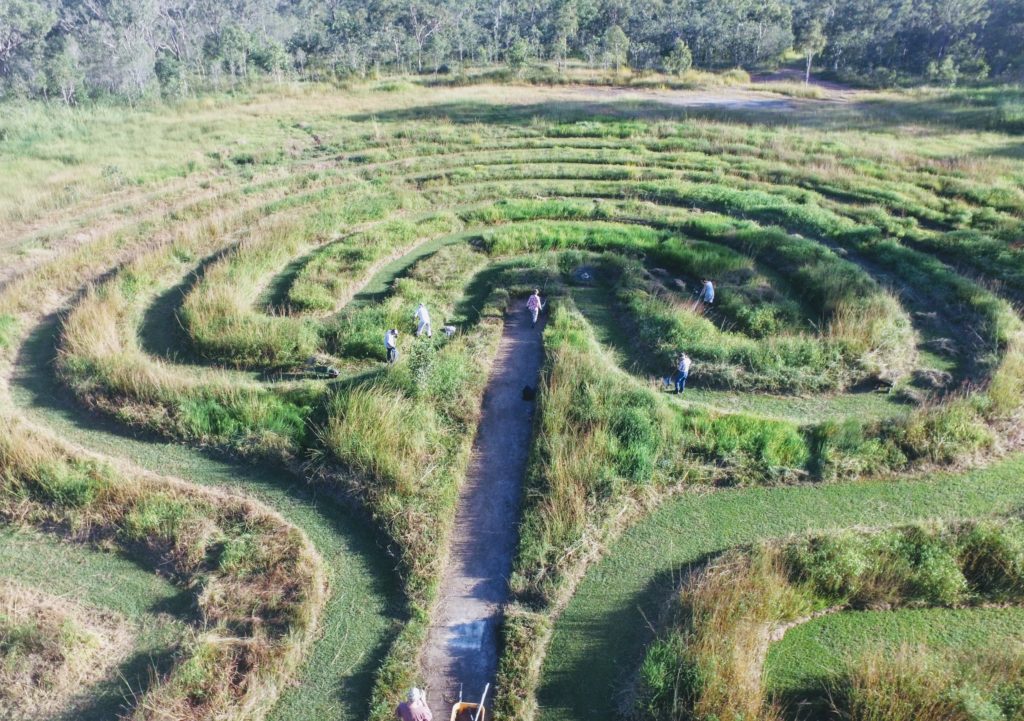 Maintenance vollies madly slashing and raking to prep for the big day!
A merry group of labyrinth-appreciators gathered on Saturday 4 May for the annual World Labyrinth Day celebrations. According to an eye-witness account:
"The labyrinth hosted fifteen adults, five children and four polite dogs. Plus another three visitors with a handsome dog in mid afternoon."
This marks the third such event for the local community and the smiles were much in evidence.
One of the hard-working volunteer maintainers was overheard: "I thought we might have lost it this year, given the long Wet season and the work required to bring it back."
This year's 1858mm Wet season was reminiscent of a strong season a couple years back when ducks decided the oval was a nice extension to their territory. Many sections of the labyrinth stayed underwater for months. During a good wet season quite large puddles form on the second oval. This pic was taken some years back, but there were ducks there this year, too.
The best way to protect the labyrinth is to enjoy it. Rupert Russell, the instigator of the project, notes:

"The labyrinth is in good shape now: dry, mowed and edges tidied, so it is there to welcome you until we hopefully get good rains in Dec-January. Evenings are especially pleasant, with no dew on the grass and sunshine on the gum trees which fringe part of the oval."